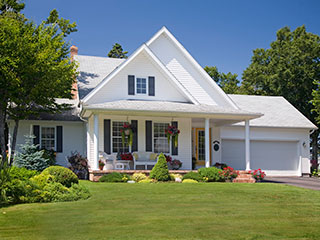 We provide professional repair services to local homeowners with residential garage door systems. We have the training to deal with all kinds of problems and are known for delivering high quality but affordable services.
Experts In Garage Door Repair
Our garage door repair services include troubleshooting opener systems, replacing torsion and extension springs, and panel repair. Having us over for scheduled maintenance services is the best way to avoid premature failure of your door system.
We've Got You Covered
Our skilled technicians have decades of experience and can handle any problem you're dealing with, regardless of brand or model. Our team has all the technical expertise needed and our priority is to restore your door to proper working order and to ensure you're satisfied with the final result.
Same Day Service Is A Reality
We offer same day repairs because we understand that a busted door can't wait. At best, it's a major inconvenience especially if you can't get the car out of your garage, at worst it's actually a safety hazard as worn or broken springs can be pretty dangerous components.
Redefining Full Service
We're a full-service company when it comes to installation, maintenance, and repair. In addition, full service to us means responsive customer service and going above and beyond. When we leave your property, we leave behind a fully functioning, safe, and reliable door and a clean surrounding area.
When Your Springs Wear Down
Most garage doors rely on torsion and extension springs to give you the flexibility to open and close on demand. Over time, springs can rust and lose their tension, making it difficult, if not impossible, to utilize your garage door fully. We can help repair or replace your torsion and extension springs if necessary.
Troubleshooting Opener Problems
Garage door openers are among the most common faults we see on a daily basis. Openers are designed to be durable, but with time they can corrode, jam or otherwise break, leaving you in a tricky position when it comes to opening up your garage automatically. We can help you become unstuck
Your Local Providers
Based in the Sacramento, California area, we're ready to respond quickly to your repair and maintenance needs. There's no need to wait longer than necessary to receive the service you're after. Whatever the problem, we're here to help!